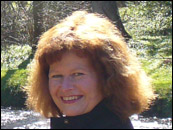 Veronica graduated from Edinburgh with a degree in Languages and Fine Art. Her studio is in the World Heritage Village of New Lanark. She teaches 4 midweek classes and opens to the public at weekends from April to November.
Veronica paints a wide variety of subjects in oil, acrylic and pastel. Her 3 children and 8 grandchildren often feature in her figurative work and many of her landscapes depict the beauty of the surrounding Clyde valley.
For all enquiries please contact Veronica.